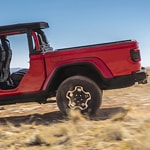 The all-new Jeep Gladiator is a popular midsize pickup truck that is designed for both power and performance. It has the capability and build to be both a great work vehicle or a vehicle for your family's driving.
You can tell it is a Jeep because of the design and look of the cab. It has the same box-like structure that is a telltale feature of Jeeps. It comes with four doors and can easily seat up to five people.
It also has a full-length pickup bed that has the width and length for hauling just about anything. You can easily put in bales of hay, loads of building materials, small UTVs, and other equipment without fazing your truck's engine. It also has a trailer hitch that you can use for towing flatbed and flatbed trailers and vessels like fishing boats. The Gladiator has a towing capacity of thousands of pounds.