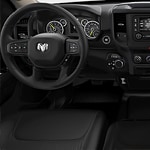 When owning one of the best light-duty pickup trucks is on your to-do list, the newly released 1500 from Ram has you covered. Get access to some of the most innovative durability features found in the truck world with this pickup today.
Take a look, for example, at the new Ram's powerful 3.0-liter EcoDiesel V6 engine. This engine gives the truck ample power for driving in even the roughest of conditions. It can plow through tall grasses in pastures or boggy mud in fields without slowing down or overheating.
Also appreciate the Ram 1500's multi-swing gate, which is unlike anything that you could find on comparable models on other brands. This gate, which swings out from the middle, lets you work cargo easily without having to constantly lift the tailgate up and down. It also locks securely in place to hold cargo in the pickup bed and prevents loads from falling off.